Back to Homepage
Start With Hillel | Hillel's Origin | Origin of the Name Noar | The English Noars | Other Noars | Find a Noar
---
---
Sign The Guestbook
THE ENGLISH NOARS
This is another Jewish branch of Noar that has not yet been proven to be connected to the Noar family descended from Itzak > Hillel Noar. However, maybe in time......................
Recent research results on the origins of this branch can be read at Research Report . This research was done mostly at the archives in Saint Petersburg, Russia . Opportunities for further research are explained at the bottom of the report.
In the late 1800's there were 4 siblings who immigrated from Russia, near St. Petersburg , to England and America. The ancestral village of the family was Vabolnik , Lithuania . The oldest, Joseph, went to England with the name Noar. Two of Joseph's brothers, Joshua and Jacob, ended up in America with the the surname Norr. A sister, Lizzie, went first to England and then to America along with her husband Maurice Caplan. At this point I will only relate the tale of Joseph since it is his descendants which have the Noar name.
Joseph Noar was born in 1840 in Russia . He was a tailor in St. Petersburg, making uniforms for the Czar's officers. In 1886 he immigrated from Russia to England along with his eldest son, Israel (16). Joseph was looking for a better life while Israel was of age for conscription. Joseph found work in the tailoring department of the Co-operative Society of Manchester.
Two years later he was able to bring over his wife, Belle (Baile) and other 6 children:
Lubbie (the oldest)
Eli (13)
Dora (8-9 )
Leah (6)
Maurice (3)
Leslie (1)
Unfortunately, Belle died within 1 year of arriving in England. Joseph remarried, to Rosie , who gave birth to twins who died as children.
1. Lubbie Noar (b ~1866) married a man named Abrahams and had 7 children: Fanny , Louis ,
Abraham , Sarah , Solly , Bella , and Maurice . They were very poor. Lubbie died in 1926 at
age 60.
- Fanny married a man named Cohen. They made a living out of a shpayzkrom (small
grocery store). They had 2 children one of whom was Lewis, who went on to be the
Chief Executive of the Institute of Physics in London .
- Louis died in WW I in 1916.
- Abraham remained a bachelor and worked for his uncle Leslie Noar as a collector in his
Money Lending and Credit Drapery Business. He changed his name to Arthur Ambrose.
- Sarah also did not marry and earned her living a a sewing machinist.
- Solly was also a bachelor and worked for his uncle Leslie .
- Maurice was a factory manager for the Kindler Raincoat Manufacturers. He married a
widow, Leah Coddle and had step daughter Rita . They had 2 further girls, Sheila and
Pamela . Sheila earned high honours as a academic in Australia.
- Rita married Sidney Bubb in 1949. They had 2 children, Janice and Carl .
- Janice married Sid Ackerman . They have 2 children, Robert and Lauren .
- Sheila married Keith Davies and had a son Michael .
- Pamela married Ivor Deach and had 2 daughters, Andrea and Melanie .
- Andrea married Eric Sayers and have 2 children, Rachelle and Elliot .
- Melanie married Philip Lisberg and has a son named Abe .
2. Israel Noar (b ~1870) married Annie Sablowski and had 6 children: Lionel , Maurice , Sidney ,
Lawrence , Jenny , and Mae .
- Lionel was a bachelor who made his living as a bookie's runner.
- Maurice was a Post Office Clerk and was married to Elsie. They had a daughter named
Joan who had 2 children Irvin and Elisa .
- Irvin married Barbara and has two boys Adam and Oliver .
- Elisa married Ian and has two girls Danielle and Caroline
- Danielle married Miguel and has a daughter Lucia
- Caroline married Sab
- Sidney built up a successful textile business in Manchester. He married Dorothy and
had 3 children Joseph Barry , Vicky , and Annette .
- Joseph Barry emigrated to Santa Barbara, Ca. and then on to San Diego . He is married
to Johnina . They have 2 sons, Adam and Kevin .
- Vicky married a man called Levy and has 3 children Samuel , Suzanne , and Natalie .
- Annette married David Cowley and has 2 sons Jack and Tom. Annette remarried to Dean Murphy.
- Lawrence was a jeweler who married Gina
- Jennie married Walter Goodman . They had a daughter called Denyse and emigrated to the
US. Denyse has a son called Zev
- Mae married Abe Mendelsohn who was in the Canadian Airforce and emigrated to
Canada. Mae passed away this past Dec. 4, 1999.


| | |
| --- | --- |
| | |
| Joan and Elisa | Irvin and Barbara Grant |
| | |
| | |
| Dabielle, Miguel and Lucia | Caroline and Sab |
| | |
| --- | --- |
| | |
| Joseph Barry & Johnina Noar | Johnina Noar |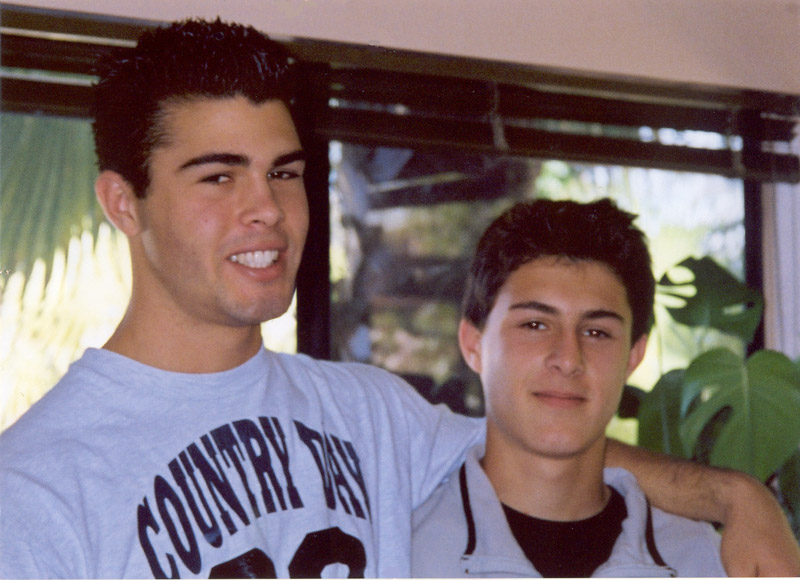 Adam and Kevin Noar
| | |
| --- | --- |
| | |
| Vicky Levy and Annette Murphy | Vicky Levy and Annette Murphy |
Dean, Annette, Jack and Tom
3. Eli Noar (b~1875) married Sarah Weinstein and worked as a tailor. They had 8 children:
David , Bella , Ida , Nora , Rita , Leonard , Annie , and Neville. Of these, only Annie is
still alive. Bella passed away November 28 1999, at the age of 97.

David Noar

Lottie Noar
(David's Wife)

Ida Noar

Annie Noar
- David Noar married Charlotte (Lottie) Hannah Stohler and had 2 sons, Geoffrey and
Michael. David was in various businesses. He started off in money lending, sold film
advertising, did chromium plating for the motor trade, antiques, as a jobbing printer. In later
years he owned and controlled several profitable bingo halls.
- Geoffrey Noar was convinced by his father to become a dentist instead of as an actor. He
has 3 children Richard , Elizabeth and Kathy .
- Richard is married to Maxine Johnson.
- Elizabeth is married to John O'Brien. They have 3 sons, Thomas , Joseph and David
- Kathy is married to Doug Thomson . They have 2 children, Jessica and Joel .


Geoffrey Noar
Richard Noar

Maxine Noar
(Richard's wife)

Annabel Noar

Mom, Dad, and Annabel
| | | |
| --- | --- | --- |
| | | |
| Kathy Thomson | Jessica Thomson | Joel Thomson |
- Michael Noar married Michele Silverstone . He started out taking over his father's print
works but later moved to the Toronto, Canada area. They have 2 daughters, Debby and
Victoria (Vikki). Debby and Vikki live in Toronto . Michael passed away
in Toronto on 1/5/01.
- Debby has 2 children, Micha and Sofie.

| | | | |
| --- | --- | --- | --- |
| | | | |
| Michael Noar | Michele Noar | Debby Noar | Vickki Noar |
| | |
| --- | --- |
| | |
| Michele and Vickki Noar | Michele, Vickki, and Michael Noar |
| | |
| --- | --- |
| | |
| Debby, Micha, and Sophie | Sophie (4 months) |
- Bella married Johnnie Montague and was widowed at age 26. She had a sweet shop and
later worked as a secretary. She had a daughter Fay .
- Ida had a very successful boutique until she married Hymie Jacobs (Joe Jackson). They
had 2 daughters and a son.
- Nora married Bernard Spiro and had 2 children.
- Rita married David Bellovitch . They had 2 sons Tony and Brian .
- Leonard died at age 6 of meningitis.
- Annie married Louis Samson . They had 2 children Elaine and Paul .
- Neville died in infancy.
4. Dora Noar (b~1880) married a man named Cohen. They had 6 children: Bella , Myer , Rose ,
Joseph , Ralph , and Cissie .
- Bella married a kosher butcher, Judd Samuels .
- Meyer was a watchmaker and married Hilda Jacobson .
- Rose married Alec Berlyne who had a glass business.
- Joseph married Hilda Gottlieb and changed his name to Joe Carr.
- Cissie married a man called Kessler .
5. Leah Noar (b~1882) married Abe Goodenday . They had 2 children: Anne and Lionel .
- Anne married Harold Rosenberg , who was a "klapper". A klapper knocks on doors seeking
to purchase second hand silver or jewelry. They had 2 daughters, Louise and Rosalynd .
- Louise (Ellman) is a member of Parliament representing Liverpool Riverside.
- Lionel was a Hire Purchase Financier and passed away in 1999.
6. Maurice Noar (b.1886 Russia; D.1969 Manchester) married Rebecca Gertler (b.1890 Bessarabia; d.1981 Manchester) and was a traveler for a raincoat
manufacturer. They had 4 children: Ralph, Rosabelle , Ralph, Jackie, and Michael . - Ralph became an optician and married Sylvia Ring. They had two children Diane and Stephen. Stephen started Denplan, a dental insurance company. - Rosabelle was a secretary at a chemical factory where she met her husband Arthur Woolf. They had three children: Janet, Veronica, Eleanor. - Jackie was a research chemist and married Carol. They had two children; Alan and Clifford. - Michael , an optician, married Rita Freedman, a ballet dancer. They had two children Martin and Amanda Their daughter Amanda is a well known actress in England.

Amanda Noar
7. Leslie Noar (b~1887) married Annie Rydie and had 3 children: Joseph , Rita , and Arthur . He
worked in the money lending business before switching over to credit drapery. Finally, he
ended up with a first flour suite in the centre of Manchester with a tailor business.
- Joseph joined the Merchant Navy as a radio officer at the outbreak of WW II and was
torpedoed. Not wanting to experience that again, he joined the Royal Air Force as a bomb
aimer and died in a midair collision in 1942.
- Rita became a worker in a war factory repairing tanks during WW II. She later was
conscripted into the ATS as a female soldier. After the war she married Leslie Greenburgh
a watch and clock importer and wholesaler. They had 2 daughters, Ruth and Joan .
- Ruth married Michael Harris .
- Joan married Stephen Waldek . They had 4 children, on of whom is Daniel .
- Arthur married Pamela Harris in 1953 and became a doctor in general practice. They had a
son Joseph . Arthur died in 1994.
- Joseph married Sara Portnoy (a child psychologist) in 1987. He is an orthodontist.
Along with his practice, he teaches orthodontics at the University of London . Joseph and
Sara have 3 children: Alexander(4/1/94), Benjamin(13/10/97), and Jacob (25/10/01).



Joseph Noar
[ Abraham Noar Branch ] [ Abraham's Children ] [ Homepage ]
[ English Noars ] [ Estonia ] [
Find a Noar
] [ Hillel's Origin ]
[ Isaac Noar Branch ] [ Leizer's Children ] [ Murder of Toiba & Rachel Noar ]
[ Noar Patents} [ Origin of the Name Noar ] [ Other Noars ] [ Ponary Forest ]
[ Solomon Noar Branch ] [ Start With Hillel ] [ Story of the Vilna Ghetto ]
[ Yudel Noar Branch ]